PIDP 3100 Assignment 2.
Post #1:
Trends in Education (Part 1 of 3)
The two trends in education that myself and Eric Unmacht, my learning partner, discussed were Blooms taxonomy of teaching flipped, and, the increasing personalization of learning and growth of social learning in the workplace.https://hemlocklearning.weebly.com/
The trend I was interested in was Bloom's Taxonomy Flipped using a Problem Based Learning strategy.
In the flipped classroom, the traditional lecture and homework elements are reversed or flipped. Students watch short instructional videos at home before class and then use in-class time for exercises, projects, or discussions. The terms flipped learning, flipped teaching, reverse teaching, and the backwards classroom are now widely used to describe classes that follow this pedagogical structure.
Flipped Learning is a model tailored to the entertainment preferences of Generation C. According to the Gen C YouTube Audience Study:
"These students live in the present tense, connecting across all screens, all the time, everywhere. 59% say the Internet is their main source of entertainment and 38% turn to their phone first when they want to be entertained, with 66% spending the same amount of time or more time watching online videos compared to TV." It makes sense to teach students in the way they are most familiar with learning. Let them learn the lecture content before class so that they can spend class time applying and analyzing the concepts they are learning? http://circlesofinnovation.valenciacollege.edu/circles/flipped-learning/
Problem Based Learning (PBL) is a strategy used used in the Flipped Classroom where students are provided open-ended and inquiry-based problems that guide student learning through discovery-based learning and authentic applications.
Students work to find a viable solution to the real world problems using their existing skills, experience, and knowledge. They are more motivated to seek information to enhance their understanding of the subject. PBL encourages participation, communication, and collaboration where students work in a small group (4-6 students) in order to solve a defined problem. The more experienced or advanced students coach their peers on the subject. PBL promotes a community of learners where everybody is learning and teaching each other.
A selection of ill-structured problems that initiate a sense of inquiry is essential for PBL. Ill-structured problems are real-life and authentic problems or questions that do not have clear answers. When learners work on finding a solution for an ill-structured problem, they develop critical thinking skills, metacognition, and diverse thinking. Tutors in PBL will not give a direct answer to learners. They will ask the right questions and offer information that helps provoke thoughts, and lead ways for learners to find the solutions on their own.
http://etec.ctlt.ubc.ca/510wiki/PBL_and_Adult_Education
Eric's future trend topic was, The increasing personalization of learning and growth of social learning in the workplace.
We discussed using technology as a tool for teaching in the classroom and Eric stated he was interested in applying the same idea for learning and training to the workplace by using technology and integrating social media tools. Eric stated he had found a website that identified the 5 workplace learning trends and 5 predictions for 2019.
At the time of our conversation Eric's topic of his interest was workplace learners creating communities of knowledge. I found this quote from the website he sent to me that I believe applies to his interest of using social media platforms to enhance coworkers peer-to-peer learning.
"Informal, peer-to-peer learning is a well known driver of new knowledge acquisition in the workplace. What's new is the proliferation of social media tools and online discussion forums that allow employees to easily connect online with peers for advice. In a recent study published in the Harvard Business Review, researchers discovered employees who were connected to their peers via internal social platforms were more engaged and productive. "
"In 2019, it will be all about blended learning experiences. L&D will take traditional classroom instruction and layer it with online learning, social peer-to-peer learning, augmented reality, virtual reality, and one-on-one coaching to create a more blended and engaging learning experience in the flow of work." https://business.udemy.com/resources/5-workplace-learning-trends-and-5-predictions-for-2019/
Post #2 :
Implications of Flipped Classroom and social technology use.(Part 2 of 3)
The future affect technology use in the classroom will have on Flipped Classroom with a Problem based learning strategy is, I will not be instructing in the classroom but instructing online.
Currently my classes are constructed similar to a Flipped Classroom using a Problem Based Learning (PBL) strategy.
For the time being my lectures are still taught in a classroom setting. In my lectures I use daily; videos, podcasts, tedtalks, youtube videos, online news articles, clips from relevant interviews, live online statistics sites. The other portion of class time is used for collaborative exercises, projects, discussions or short online quizzes.
In the near future my course hours will be half of what I have now. Of the reduced course time 60-70% of the course hours will be taught online. I will need to create lectures and provide links to the social media tools I am currently using that focus on the course topics and prepare short instructional videos that can be viewed at home before class and then use in-class time for exercises, projects, or discussions.
Another effect on two of my courses is the increase of social media use for information sharing and assignment completion. Currently the students have assignments that require them to work together face-to-face and/or collaboratively online after class. In the future I anticipate all my courses will be 100% online. In that case I will set up peer-to-peer communication through a class chat group and as part of student grades everyone will be required to join up and participate, share or comment on other students posts.
An example of new technology that some of the instructors of the railway conductor program will likely be using, or replaced by, are simulators to train future conductors .
Train Simulation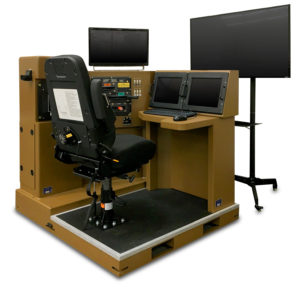 Post #3
Social media peer-to-peer platforms to enhance personalization of learning and growth in the classroom and at the work place.
The "Aha" Moment (Part 3 of 3)
Out of all the new things that I learned, the topic that caused me to reflect the most was social media platforms used in adult education courses and in the work place. The social media platform in both environments promotes a community of learners where everybody is learning and teaching each other.
After talking with Eric I became interested in this advancement in learning in the work place through social media tools and online peer-to-peer discussion forums, particularly because in the future of the railways it is predicted the number of conductor positions will be significantly reduced due to advancements in technology. According to the website, replaced by robots,
"96% of "Locomotive Engineers" will almost certainly be replaced by robots."
https://www.replacedbyrobot.info/70557/locomotive-engineers
So I realized as an instructor it is my obligation to find ways to best prepare students for their future careers. I asked myself how can I utilize social medial platforms to enhance online peer-to-peer discussion forums in my courses to help prepare our students, the future conductors, for the inevitability of their transition from conductor to some other position within the railway company. I can do this by creating online chat rooms for the students to get them familiar with using social media as a way to get peer-to-peer learning. I can also create exercises where students will present on future trends of the railway and how automation will effect their job.
Resource Section: Upload or scan the article that you used for your Skype call. Post your Learning Partner's article too, if they are willing or able to share.
Trends in Adult Education
References, Resources and Links
https://hemlocklearning.weebly.com/
http://docs.lib.purdue.edu/ijpbl/vol1/iss1/3/
http://etec.ctlt.ubc.ca/510wiki/PBL_and_Adult_Education
https://www.replacedbyrobot.info/70557/locomotive-engineers
https://business.udemy.com/resources/5-workplace-learning-trends-and-5-predictions-for-2019/ 
Siriya Adult Education, Trends in Adult Education
Educause. (2012). Things you should know about…: Flipped classroom. Retrieved from https://net.educause.edu/ir/library/pdf/eli7081.pdf
Savery, J. R., (2006). Overview of problem-based learning: Definitions and distinctions. Interdisciplinary Journal of Problem-Based Learning, 1(1). Retrieved from http://docs.lib.purdue.edu/ijpbl/vol1/iss1/3/
Walsh, A. (2005). The tutor in problem-based learning: A novice's guide. Retrieved from http://www.fhs.mcmaster.ca/facdev/documents/tutorPBL.pdf

Related Articles
Trends in Adult Education – Resources and Links
Categories